A 4 WEEK PROGRAM TO GET YOU
SLIM THICK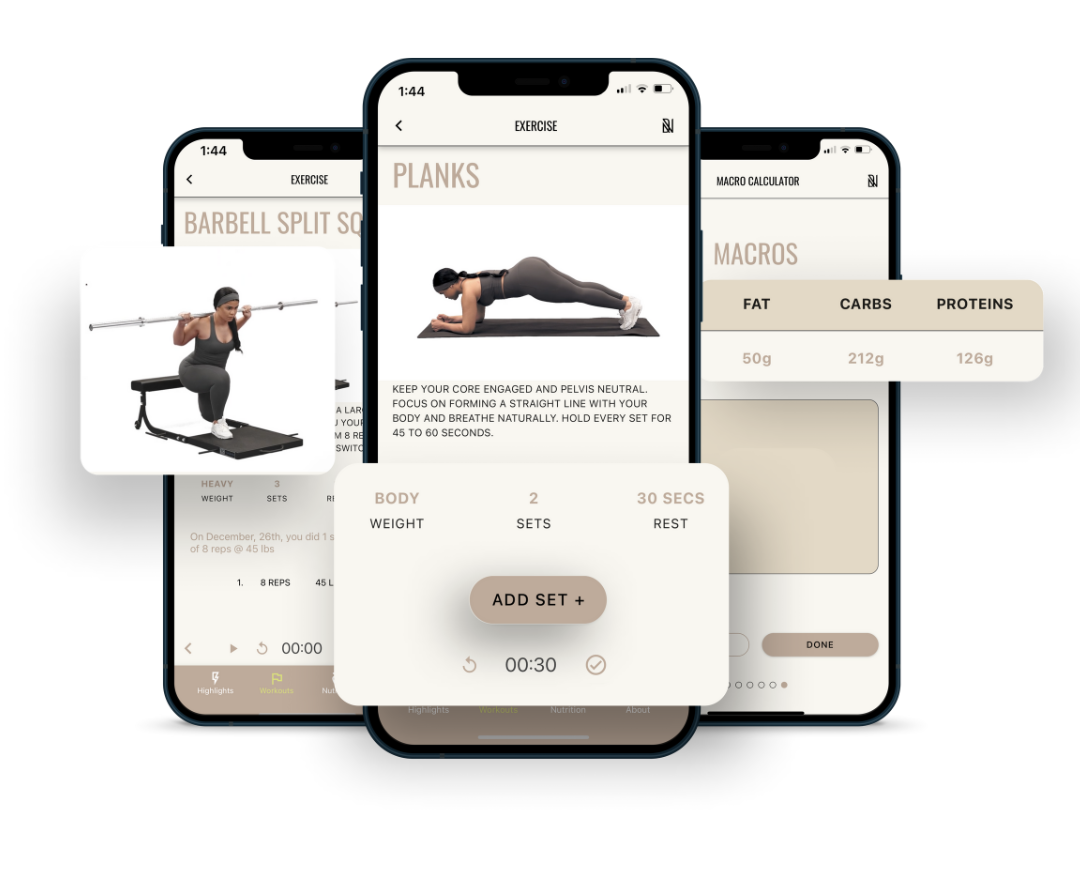 My most popular and sought out program — the SLIM THICK GUIDE. Transform with my proven methods in only 4 weeks.
WORKOUTS
UNLOCK THE TOOLS
✓Structured: 4-week, 5-day-a-week workout program, each session 60-75 minutes long.
✓Full-Body: Specialized lower body, upper body, and abs workouts.
✓Flexible: Gym or home setting. Easy-to-follow, gradually progressive.
✓App Access: User-friendly app for seamless guidance.
✓Diverse Styles: Bodybuilding and HIIT workouts for a "slim thick" look.
✓Targeted: Aims at fat loss, reducing inches, and sculpting glutes.
✓Physical Changes: Minimizes cellulite, reduces water retention, and tones physique.
✓Science-Based: Routines grounded in proven techniques.

Join us for a transformative 4-week fitness lifestyle journey!
NUTRITION
UNLOCK THE TOOLS
✓Comprehensive: Gain a comprehensive 4-week nutritional guide, meticulously crafted to help you manage your diet throughout the program.
✓Personalized: Benefit from personalized macros and calorie calculations tailored to your needs.
✓For any goal: This versatile program supports your goal - whether you want to cut weight, maintain your current physique, or build muscle mass.
✓Accommodating: Suitable a wide range of dietary preferences, it's perfect for those following Vegan, Paleo, Plant-based, Vegetarian, Omnivore, and Keto diets.
✓Practical: Includes practical and convenient grocery lists to simplify your shopping.
✓Supplements: Get expert suggestions on supplements that can enhance your nutrition and support your health goals.

Join us for a transformative 4-week fitness lifestyle journey!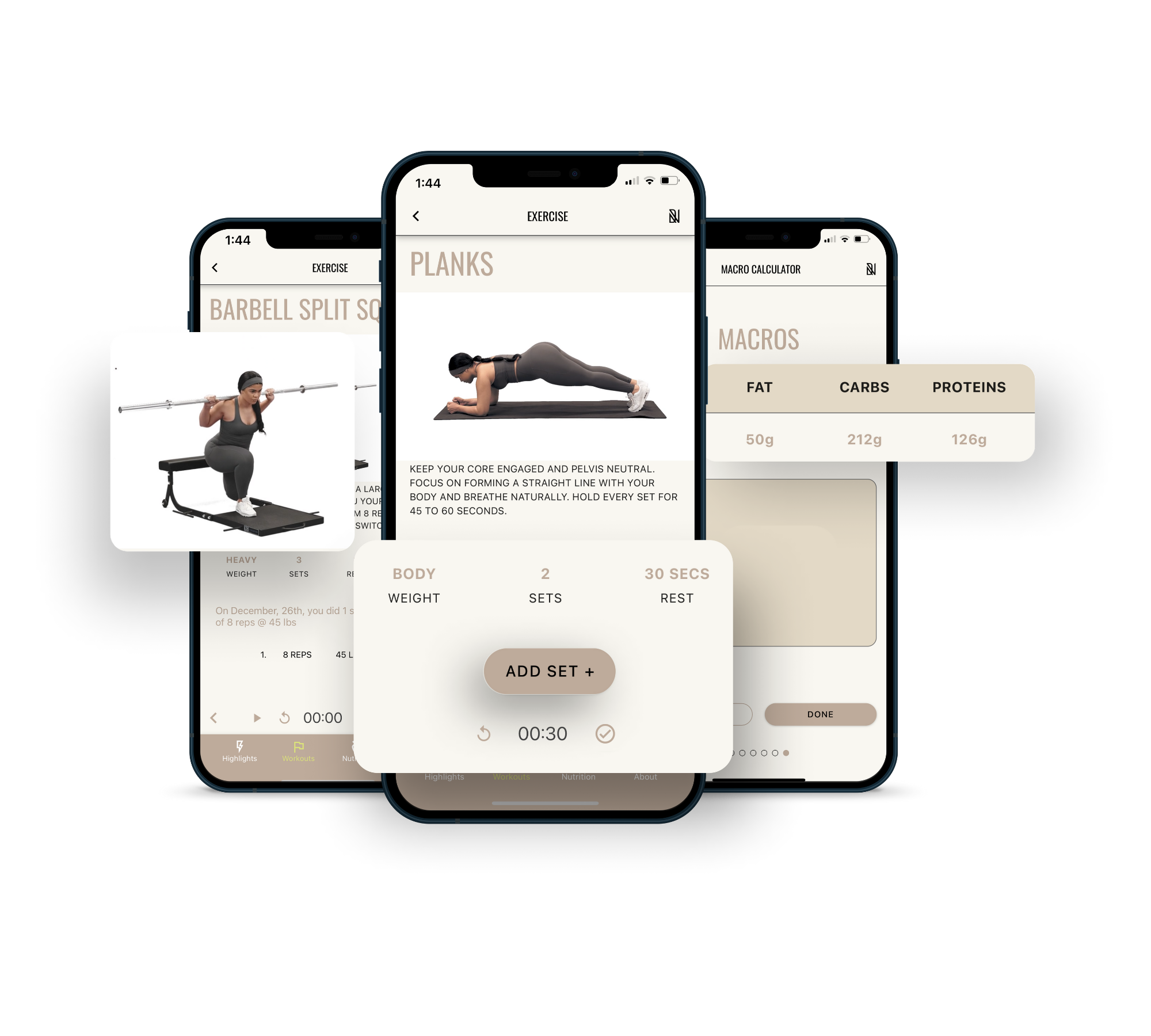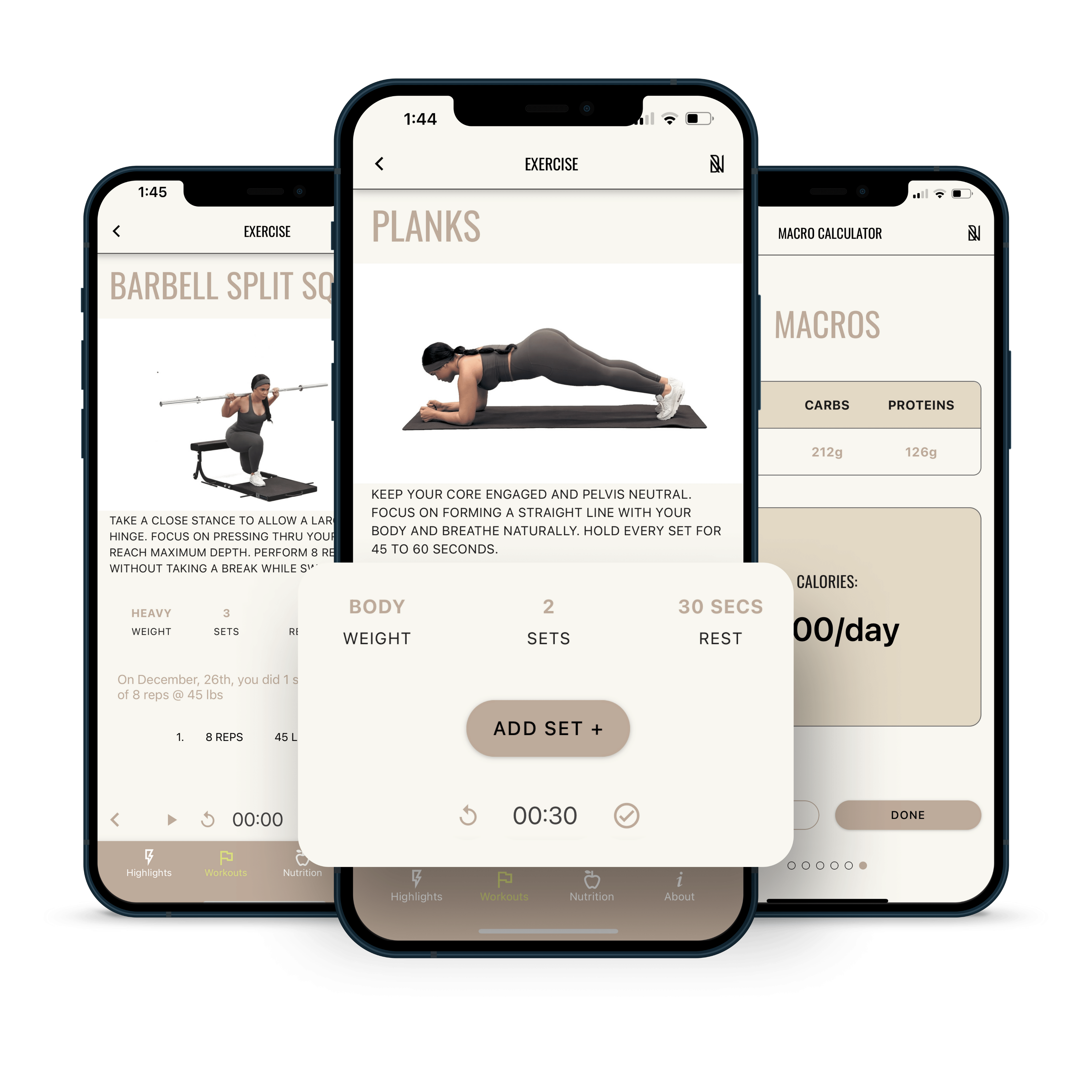 WEIGHT, SET, & REP TRACKER
FOCUS ON PROGRESSIVE OVERLOAD BY TRACKING ALL OF YOUR WORKOUTS.
VIDEO DEMOS
WATCH VIDEO DEMOS FOR EVERY WORKOUT WITHOUT INTERRUPTING MUSIC PLAY.
EQUIPMENT NEEDED FOR GYM PROGRAM:

✓ DUMBBELLS

✓ BARBELLS

✓ GYM BENCH

✓ STABILITY BALL

✓ SEATED CABLE MACHINE

✓ CABLE MACHINE

✓ SMITH MACHINE
EQUIPMENT NEEDED FOR HOME VERSION:
✓ 5 DAYS PER WEEK

✓ 4 WEEKS LONG

✓ 45  MINUTES TO 60 MINUTES PER WORKOUT
✓ LOWER (FOCUS: QUADS & GLUTES)

✓ UPPER (FOCUS: SHOULDERS, TRICEPS, CHEST, ABS)

✓ LOWER (FOCUS: HAMSTRINGS & GLUTES)

✓ UPPER (FOCUS: BACK, BICEPS, ABS)

✓ LOWER (FOCUS: GLUTES FOCUS)
✓WEIGHTLIFTING

✓BODYBUILDING

✓BURNOUTS

✓HITT
✓ DUMBBELLS
✓ BARBELLS
✓ GYM BENCH
✓ STABILITY BALL
✓ SEATED CABLE MACHINE
✓ CABLE MACHINE
✓ SMITH MACHINE
✓ 5 DAYS PER WEEK
✓ 4 WEEKS LONG
✓ 45  MINUTES TO 60 MINUTES PER WORKOUT
✓ LOWER (FOCUS: QUADS & GLUTES)
✓ UPPER (FOCUS: SHOULDERS, TRICEPS, CHEST, ABS)
✓ LOWER (FOCUS: HAMSTRINGS & GLUTES)
✓ UPPER (FOCUS: BACK, BICEPS, ABS)
✓ LOWER (FOCUS: GLUTES FOCUS)
✓WEIGHTLIFTING
✓BODYBUILDING
✓BURNOUTS
✓HITT